I love thrift shopping. Aside from crafting, it's my favorite hobby (and also a part of my job), so I do a lot of it. I've found some great things at the thrift store, and this week one of my favorite items was a bag of Lion Brand Scarfie yarn with a surprise bonus – a K hook tucked away in the middle of the skein. I'd lost two other K hooks in my tiny home somewhere, so I was clearly meant to pick up this bag containing someone else's yarn, hook, and the beginnings of a virus shawl, and make it my own.
It's Springtime in Atlanta, and that means it's already about 80 degrees outside, so making a scarf with the Scarfie yarn wasn't an attractive endeavor. I decided to create a challenge for myself and find as many non-scarf or scarf-adjacent (shawls, cowls, neckwarmers, ect) projects I could find to use up the rest of this skein.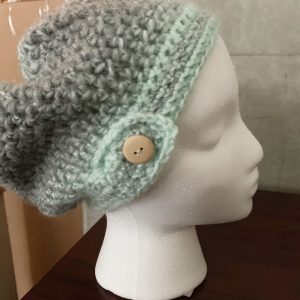 For the main project, I decided to create the Machiatto Slouch from Little Monkeys Crochet. I'm growing out my hair at the moment and I'm wearing a lot of hats these days, so this squishy, soft, and well structured beanie was a good fit for my needs. I love the button detail on the side, and I'm just a fan of the hat's general fit. It worked up quickly in an evening, and used less than half of the skein of Mint colored yarn – so I need to choose another project to make with the remnants.
Check out this round up of Scarfie non-scarf patterns and let me know in the comments which one I should do next!