I love crocheting for other people and I love giving gifts because it's a great excuse to crochet for more people! Mother's Day is fast approaching and I needed a pretty gift to make for my dear mom this year – enter the Bodhi Boho Vest. Named for its pattern creator, Taylor, the boho vest is a great option for the warmer months when a big woolen shawl or scarf is a bit impractical as a gift.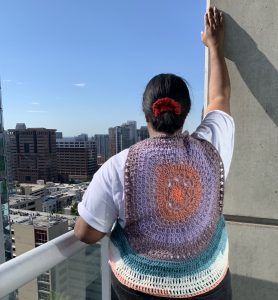 The pattern itself is incredibly easy to follow, using basic stitches and photos for every step, it's hard to mess up too badly. The pattern didn't have a gauge when I made it for myself the first time, so the center mandala turned out to be huge, and I cut way back on the surrounding border rows to balance things out. I think it still turned out pretty, and I like the results I got using Lion Brand's Mandala yarn in Pegasus.
I went down two hook sizes to make the second gifted vest, and that turned out to be the key to success. Never underestimate the importance of gauge, folks. It takes valuable yarning time, I know, but it's important to do it before starting every project or you'll end up with something way too big or way too small, and nothing at all like what the pattern designer intended. /end lesson
The second vest turned out beautifully and I hope my mom will love it! The colors of the Mandala yarn remind me of the Carolina coastlines, which is where my family is from, and the shape of the vest just looks great from all angles.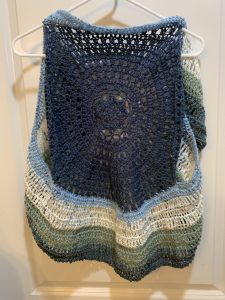 I used exactly one cake of yarn which was enough for a size Small, making this an economical project as well. Can you tell I'm in love with this pattern? I had to stop myself from making another for my mother-in-law (she's getting a different crocheted project! More to come on that soon).
Try it yourself!
The Bodhi Boho Vest Pattern (Free!)