A bit of trivia for you: I was the co-host and producer of a Harry Potter podcast called Spinner's Cast for a few years when the Harry Potter books were first being published. During that time I attended Harry Potter movie premieres (for Order of the Phoenix I sat next to the actor who plays Percy Weasley), I spoke to CNN and the BBC about Harry Potter, and I traveled around the United States to attend Harry Potter conventions.
What I'm trying to say is –
I'm a bit of a fan.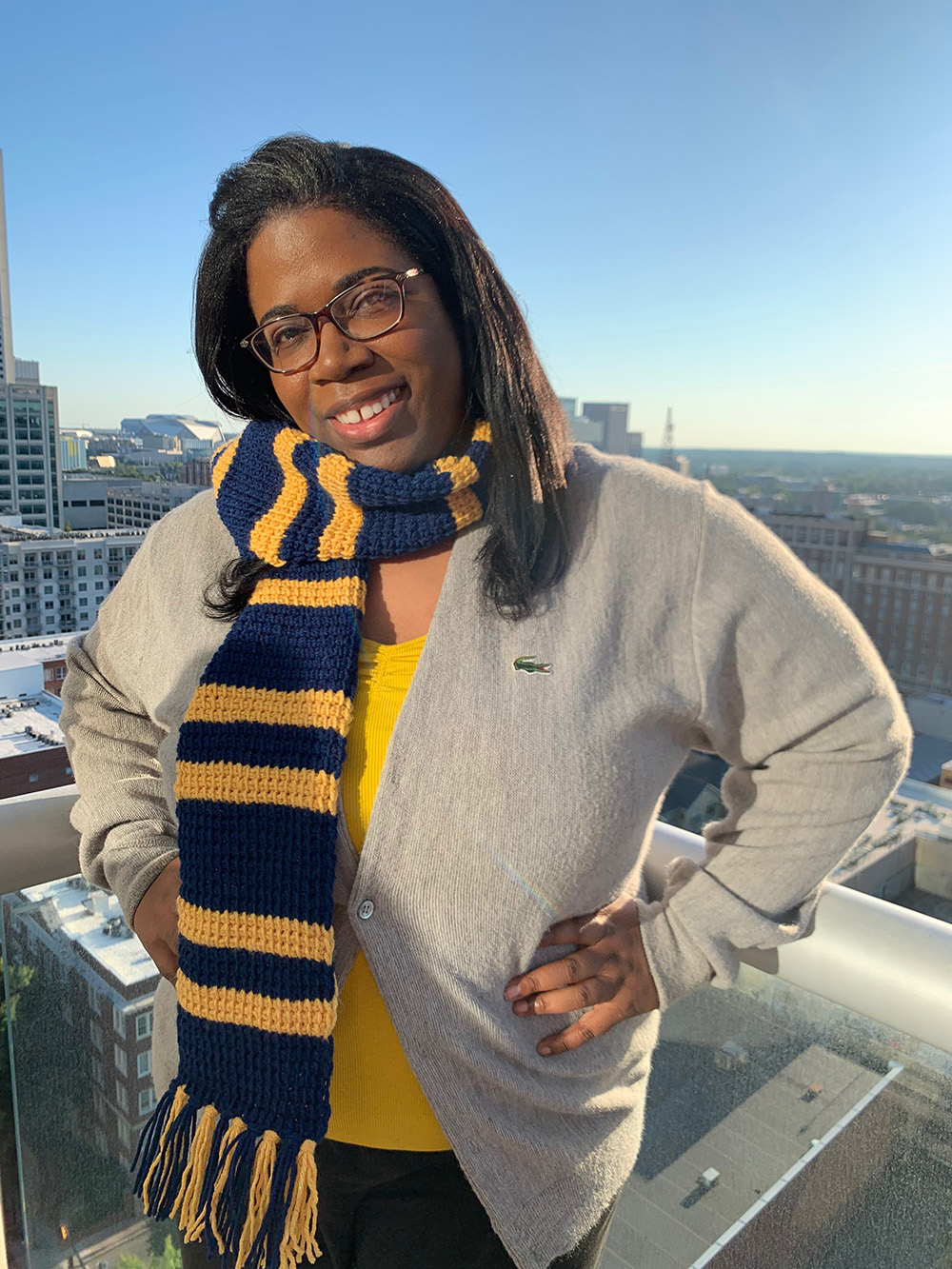 So it should probably be a bit of a surprise that I've never crocheted or knitted a Harry Potter – themed scarf before! I've made hats, arm warmers and other do-dads, but never a scarf. I also realized that after 13 years, I've changed. A lot. I used to call myself a Slytherin, but now I'm a lot more empathetic. A kinder, friendlier Kim.
I took a few of those infamous Sorting Hat Quizzes and found that I'm equal parts Ravenclaw and Hufflepuff. It turns out the modern version of the Harry Potter fandom has a name for this combination: Ravenpuff. It's cute and it fits perfectly! I figured there are a lot of people out there who don't quite fit into one of the four Hogwarts houses, so why not make a scarf that reflects this? Also – it's a good way to get away from copyright issues.
I made this Ravenpuff scarf using dark blue and gold yarn. The blue is for Ravenclaw and the gold is for Hufflepuff. I chose to do this as my first published Tunisian crochet project and I hope you love it!
New to Tunisian crochet? Don't be intimidated – it's easy to learn! Check out my YouTube series for beginners!
The yarn is acrylic by Red Heart. I was pretty impressed with the feel and drape of Red Heart With Love. Super Saver remains a budget icon, and With Love is soft and has a nice sheen. I chose the yarn based on the colors alone. You can use any worsted weight (4) yarn for this project!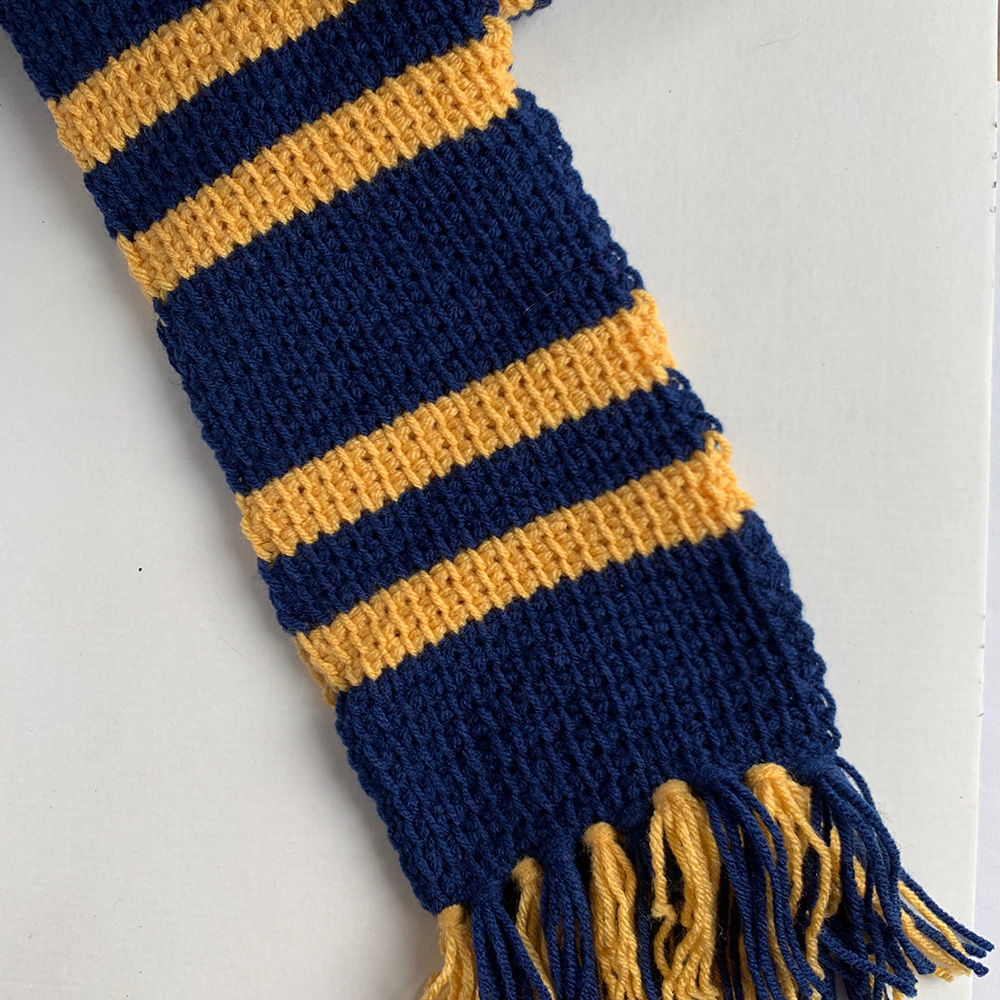 Disclosure: This post may contain affiliate links that earn me a small commission, at no additional cost to you. I only recommend products I personally use and love, or think my readers will find useful.
PATTERN
Get the ad-free, size 14 font, printable PDF pattern here.
PIN this pattern to your Pinterest boards here.
Add this pattern to your Ravelry queue or library here.
Materials:
-Red Heart Super Saver (Soft Navy)
-Red Heart With Love (Cornsilk)
–Size L hook tunisian hook (8.00 mm)
Abbreviations (US terms):
CH – chain
TSS – Tunisian Simple Stitch
BO – Bind Off
RetP – Return Pass
Skill Level:
Easy
Gauge: 
10 stitches x 10 rows = 4"x4" square
Pattern notes:
-You can carry your contrasting yarn color up the side of the scarf instead of cutting it with every color change.
-The scarf is one-sided.
-The ends may start to curl up – don't panic! If you add fringe to the ends, they will straighten out.
-Blocking also helps with curling!
Pattern
CH 20
Rows 1-8: TSS across, RetP (Main Color)
Rows 9-12: TSS across, RetP (Contrasting Color)
Rows 12-15: TSS across, RetP (Main Color)
Rows 15-18: TSS across, RetP (Contrasting Color)
Repeat the above color sequence 8 times.
Bind Off. 
(Optional) Add fringe in alternating main color and contrasting color to the ends of the scarf.
Share your projects made using Cozy and Cheer patterns on Instagram with the hashtag #cozyandcheer!