I made it, I wore it, I got compliments! I'm a big fan of this free pattern and this turned out to be an economical project as well since the yarn was on clearance. I love a good deal, and 3.97 a cake was right up my alley. All in all, a great project with great results!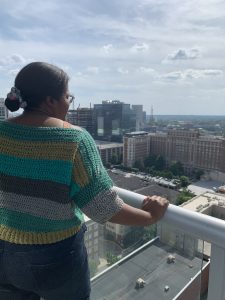 The pattern is The Everygirl Sweater from Hooked on Homemade Happiness. As mentioned above, the pattern was free, and it was easy to follow. The stitches used were simple chains and double crochets, with some shaping in the sleeves by way of a DC2TOG or two. I decided to make the sweater a slight crop because that's on trend and good for the approaching warmer months. I highly suggest trying color control if you make this sweater using Caron Cakes. I opted to just use the cakes as-is (I used 2.5 cakes of yarn for a size XL/1X sweater), but I wish I'd tried to make a color gradient because it would look cool. Control means you have more ends to weave in, but since this sweater requires seaming anyway, you'll already have the needle out- so why not?
I really enjoyed this pattern, and it was a quick wearable project, only taking a weekend of on-and-off crocheting to complete. You should try it today!